Who Was the Worst Major MMA Champion Ever?
For four months in 2001-2002, Dave Menne — the fighter who Phil Baroni famously steamrolled at UFC 39 — was the UFC's middleweight champion. That's right: The belt that Anderson Silva has proudly worn for the last five-and-a-half years used to belong to this guy. Menne won the title in September 2001 by beating 5-0 newcomer Gil Castillo, and went on to compile an overall record of 2-4 in the Octagon. Gentlemen, the floor is yours. Good luck.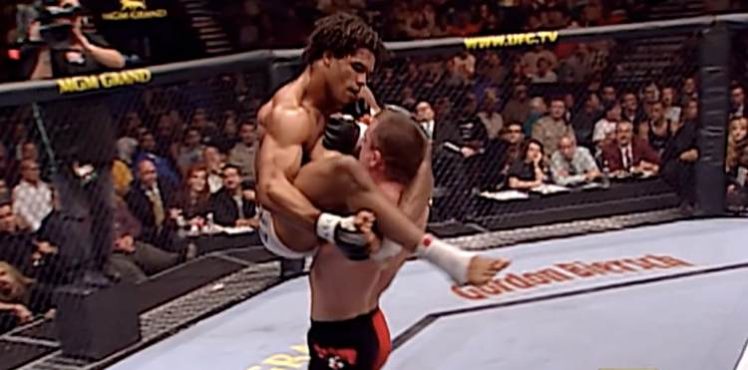 The worst major MMA champion of all time has to be Carlos Newton.
For starters when you say your fighting style is Dragon Ball Z Jiu-Jitsu to pay homage to a Japanese anime character, there's a screw loose somewhere.
Secondly, when Newton won the UFC welterweight title, there wasn't exactly a deep talent pool of competition. MMA was still evolving and techniques were as sound as using bubble gum on a car engine. I will admit that he beat a very experienced and talented Pat Miletich to get the strap, but that's the lone gem in his dreadlocked crown. Today every weight class has a laundry list of accomplished fighters and an alternate list of accomplished fighters waiting in the wings in case they tweet something controversial and Mr. White fires all of them. The point is, he didn't exactly climb a ladder of giants to get to the belt.
Thirdly, he never defended it. They say you're not really the champion until you defend the belt. They're right. The hunger that consumes so many fighters as they climb the lofty MMA mountain is frequently snuffed out once they get to the top. The mighty tumble faster down those slopes than the President's approval ratings. Newton never defended the welterweight title and had one of the shortest reigns as champ in the history of the UFC, especially when you consider how infrequent the events were back in 2001 when he was the champ. Newton's inability to defend the belt could be forgiven if he'd remained a contender or changed weight classes to challenge for another belt. But his career nosedived after losing the welterweight title to Matt Hughes in his very next fight and he went 6-9 over the next eight-and-a-half years of fighting, with no wins over anyone notable.
Carlos Newton was in the right place at the right time to win the UFC welterweight belt, but since that day his career has been lackluster at best and largely unmemorable. Guess that Dragon Ball Z Jiu Jitsu wasn't so hot after all.
I'll be honest: When this topic was first introduced, I was pretty skeptical about how it would work as a column. "Major MMA promotion" is an incredibly vague term that could apply to pretty much any promotion that we've covered on this site. KSW is a major promotion in Poland. Inka Fighting Championship is a major promotion in Peru. What I'm trying to say is that I didn't want this column to degrade into a contest to see who can name the most obscure organization's least-talented champion, like we're a bunch of MMA hipsters who just overheard someone say "Brock Lesnar should totally be in the UFC Hall of Fame, you guys."
Yet ironically enough, not only am I about to write about the most obscure champion on this list, but I'm also picking the most obscure weight class in the organization I'm writing about. The WEC carved its niche with the smaller weight classes for a good reason: It had virtually no depth beyond lightweight. Hell, I'm still not entirely convinced that it ever had a true light-heavyweight division. Looking at all the middleweights who fought for the WEC at light-heavyweight back then, it's almost like the promotion invented the "Rumbleweight" division before most of us knew who Anthony Johnson was.
The WEC light-heavyweight division was made up of guys like Lodune Sincaid, Brian Stann, Steve Cantwell and Tim McKenzie — all of whom are now competing at 185. Oh, and Doug Marshall, too. Remember him? If you were one of those "The WEC in its prime was better than the UFC" fans, you've probably repressed all memories that Marshall formerly held the light-heavyweight title for your precious World Extreme Cagefighting.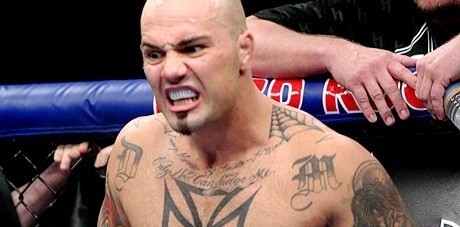 Doug Marshall was — and I can't believe I'm about to type this — the minor league version of Tim Sylvia.
He was a champion when the division was completely barren of anything resembling talent, winning the belt from Lodune Sincaid (who I almost went with, except Marshall winning was considered a minor upset), defending it against Justin McElfresh (?) and Ariel Gandulla (LOL), and then losing the belt to Brian Stann. Before you justify the loss to Stann with Captain America's current success in the UFC middleweight division, keep in mind that Stann at this point was little more than a great story and a damn good cross. Stann was so green in the sport that he would go on to lose the belt to Steve Cantwell, of all people. When the UFC absorbed the WEC's light-heavyweights, Doug Marshall was left behind.
Since getting snubbed by the UFC, Doug Marshall has (act surprised) dropped to middleweight, where he's been little more than a can crusher. He has gone 6-3, yet his three losses come against guys you've actually heard of, most recently suffering a quick KO at the hands of Zelg Galesic at Super Fight League 3. Meanwhile, the WEC's final Light-Heavyweight champion, Steve Cantwell, has lost five straight fights in the UFC. Such is life when you're the worst of the best.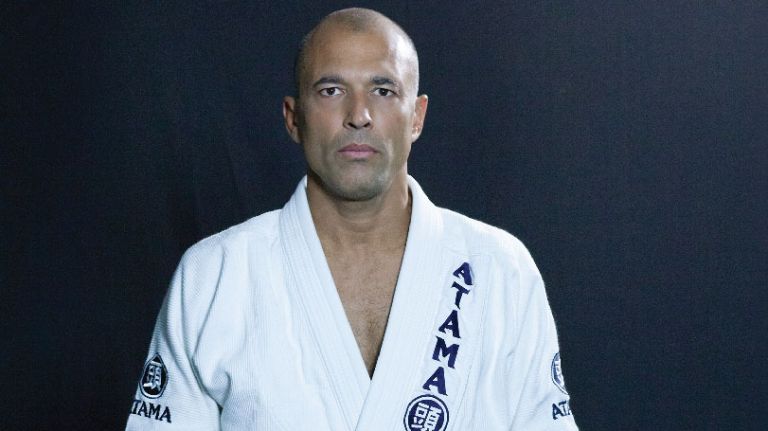 Royce Gracie is the worst major MMA champion of all time. What are you gonna do? Big whoop – you want to fight about it?
I know what I am saying is blasphemy, but at least give me a cigarette and my last words before the firing squad unloads. I want to preface this by stating; without Royce there would absolutely NOT be the sport of MMA as we know it. I do appreciate his effort and skill within the BJJ community as well as the attention he brought to the sport. He was the real life David versus his Goliath competitors.
That being said, Royce was a complete and total DICK. He was the original Paul Harris but back in the day, we were all so enamored that a 175-pound man could annihilate much bigger dudes, it went unnoticed. So ladies and gentlemen of the jury I introduce to you:
Exhibit A – Royce Gracie vs. Jason Delucia (skip to the 0:55 mark of the bottom video)
This poor bastard got his arm broken in half even though he was tapping faster than a professional Track and Field arcade game competitor. Don't give me any of this "The referee never stopped it" nonsense either. Royce knows what a tap is and he snapped it anyway.
Exhibit B – Royce Gracie vs. Gerard Gordeau (skip to the 5:30 mark of the top video)
This lucky guy knows he is defeated and taps in a gentlemanly fashion. Once the choke is not let go, you see Gordeau's tap frequency increase to panic mode and then he begins to tap with both hands simultaneously as his death approaches. At least he was wearing awesome pajama pants.
Exhibit C – Royce Gracie vs. Ron Van Clief (skip to the 4:00 mark of the top video)
Mr. Van Clief was pulling a Social Security check when he took this fight and how did Royce treat his elder? By making Big John McCarthy scream repeatedly to release the choke after Ron tapped. Following the fight Van Clief was presumably sent to the glue factory.
Exhibit D – Royce Gracie vs. Dan Severn (skip to the 15:45 mark)
The real "Beast" was taking it to Royce during this contest. Unfortunately for Dan, he subscribes to the Chael Sonnen School of Triangle Defense. Once the choke is locked in, Severn gives his big awkward taps to say "Uncle." Not so fast mustachioed one, as Royce kept the triangle locked tight until John McCarthy finally pried him off.
So, in closing ladies and gentlemen of the CP jury, I present to you the worst champion in MMA history, Royce Gracie. Not by his performance but rather with his classless actions during his performances. He is a highly skilled BJJ practitioner and a master of his craft but he is also a bloodthirsty animal who was not content with victory alone. He seemingly craved to injure his opponent after they had conceded. Having trained for decades, Royce knew what a tap meant and he didn't care. Oh yeah, the jerk pulls hair too.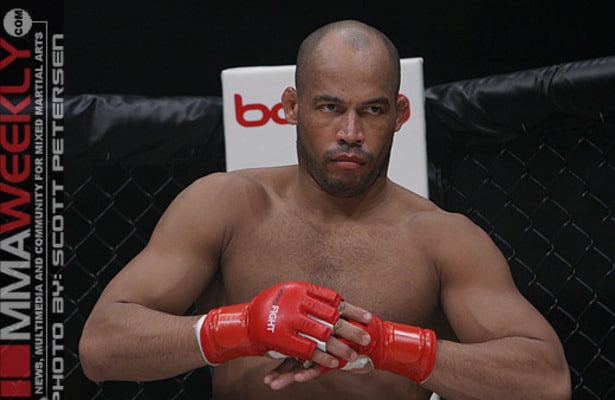 In December 2006, fledgling MMA promotion Strikeforce decided to crown a light-heavyweight champion, despite their general lack of a light-heavyweight division. To fill the vacancy, Scott Coker grabbed the first two 205′ers he could find. One was Bobby Southworth, who had gained a bit of name-recognition on the first season of TUF; never mind that his major accomplishments on that show were calling Chris Leben a fatherless bastard and losing a decision to Stephan Bonnar. 
Southworth hadn't won a fight in over three years, and his Strikeforce debut the previous June ended in no-contest due to freak accident (James Irvin). His opponent at Strikeforce: Triple Threat would be aging Lion's Den product Vernon White, who was riding a two-fight losing streak, and had never competed under the Strikeforce banner. One of these men, honest to God, was about to become a Strikeforce World Title Holder.
Southworth wound up collecting the belt in that fight via decision, and while the title itself was rather meaningless, his title reign was even more forgettable. Southworth's first defense was against Canadian journeyman Bill Mahood, who verbally submitted due to a rib injury after just 75 seconds, then tested positive for steroids. Southworth's next challenge was late-replacement Anthony Ruiz; since Ruiz only had about three weeks to prepare for the fight, Strikeforce made it a non-title affair — which made things kind of awkward when Ruiz beat Southworth by TKO due a cut. Obviously, the two men had to run it back, and Southworth won the rematch by unanimous decision in an unwatchably dull five-rounder.
Southworth's Cinderella-story ended in November 2008, when they finally matched him up with a fighter worthy of holding a belt — former UFC title contender Renato Sobral. Although Southworth put in a valiant effort against Sobral, the bout was stopped before the second frame due to a horrible gash above Bobby's eye. A rematch was agreed to, but never materialized. Southworth has only competed once since that night, beating some dude in Australia back in 2010. An attempt to get back on The Ultimate Fighter didn't pan out, which is probably for the best.
When I heard this week's question a lot of people came to mind. I had never really sat back and thought about "bad" MMA champions before. Once I did, I realized, holy shit, there have been a lot of them. Although I was gifted with a list of possible candidates as long as the Nile River, my brain stubbornly clung to one specific individual: Brock Fucking Lesnar.
Let me set the scene for you. It was what turned out to be the extremely foul year of our lord 2007, and I heard a rumor that the UFC had contracted a former "professional" wrestler to mix up the heavyweight division. I had also heard that he had a good collegiate wrestling record to his credit. So I thought to myself, "what the hell"? There have been a lot of MMA fighters who have done pro wrestling, and at least he has a solid legitimate wrestling background. Then came the hype, and it never stopped.
Fast forward four months. By this time, I had seen pictures and video until my eyes bled of this supposed unstoppable force. Once I picked myself off the floor from a crippling case of hysterical laughter at the hands of a grown man willingly having a giant dick tattooed on his chest, I started to get mildly annoyed at the attention he was receiving. For fuck sakes the man had one professional MMA fight, and that was against Kim Min-Soo. If you're not familiar with Mr. Min-Soo, allow me to elaborate. He is a 3-7 fighter, and was 2-5 when he fought Lesnar. On top of that, he has also actually lost to Bob Sapp legitimately. Luckily Frank Mir came along and submitted Lesnar in a minute and a half of the first round, thus successfully derailing what was clearly a bullshit hype-train to begin with. Wait…that didn't happen.
Instead, they threw the former "golden boy" to heavyweight gatekeeper Heath Herring. That fight somehow warranted Lesnar worthy to fight the aging and undersized Randy Couture for the UFC heavyweight title. I'm either too drunk, too stupid, or too naïve at the lengths promoters will go too when hyping "the next big thing" to understand the logic here. But it happened. What followed was one more win in the vein of Lesnar's "plow you over and hammerfist you the way I do my dick after viewing Carmen Valentina's website" style of fighting, in the form of a rematch win against Frank Mir. 
Although Shane Carwin exposed the extreme distaste Lesnar has for actually being punched in the face, Lesnar survived his title defense against "The Engineer of Pain" with his belt intact, but beat-down losses to Cain Velasquez and Alistair Overeem forced the phallically branded "athlete" back to scripted fights with an MMA record of 5-3.
I have neither the time, nor energy to look up the following, but I'm willing to bet that he is the only man in UFC history to get a title shot at 2-1, and the only "superstar" to retire at 5-3. That, ladies and gentlemen, is my argument for worst MMA champion of all time.
"I just fucked your ass." That was the t-shirt Tito Ortiz wore in the Octagon after his victory at UFC 18. It was also the night, as Tito says in his book, that Ortiz became the "Huntington Beach Bad Boy," and he began his one-man destruction of the Lion's Den camp. So, who was the unlucky soul who's ass was fucked by Tito Ortiz at UFC 18? Jerry Bohlander, my choice for the worst major MMA champion of all-time.
Jerry Bohlander walked into Ken Shamrock's Lion's Den gym in the early 1990s, submitted one of the best fighters in the gym, and was soon thrown into his first pro fight, which he won. In Bohlander's second pro fight, and first UFC fight, Bohlander submitted Scott Ferrozzo, who outweighed Bohlander by almost 150 pounds. Bohlander went on to lose to Gary Goodridge later that night, but it was only one year later, in February 1997, that Jerry Bohlander would taste UFC tournament gold. Bohlander won the UFC Lightweight (under 200lbs) Tournament at UFC 12, and did so in under two minutes total fight time.
So, after all that success, you ask, why is Jerry Bohlander my choice for worst champion? Well, the night Bohlander won his tournament, he beat Rainy Martinez and Nick Sanzo. Martinez's pro record? 0-2. Sanzo's pro record? 1-1, with Sanzo's only win coming earlier that night against Jackie Lee, who was making his pro debut. So, to become champion, Bohlander beat two completely irrelevant guys who were immediately forgotten in MMA history. Of Bohlander's 11 career wins, only 3 of those came against opponents with winning records. The three fighters of note who Bohlander fought (Ortiz, Goodridge, Murilo Bustamante) all handily beat him. Granted, in the early days of the UFC the competition was slim, but Bohlander simply has no victories over relevant opponents.
While Bohlander may be the worst major MMA champion of all-time, that says nothing about him personally. After 9/11, he was inspired to become a police officer, and has been serving as a deputy for the Napa County Sheriff's Office for close to ten years. Bohlander is on the SWAT team and works many dangerous cases. Apparently, Bohlander has two justified killings while on-duty: once shooting and killing a man charging him with a knife; and shooting and killing another suspect who was reaching in his waistband for a gun. So, while I may believe you are the worst major MMA champion of all-time, Jerry Bohlander, I salute you.
[kkstarratings]