What Was Your Lowest Moment as an MMA Fan?
It's crazy how life goes full circle: When I was ten years old, Doug Flutie was my favorite NFL player. I begged my dad to buy me Flutie Flakes for breakfast, so that I too could grow up and be a successful, albeit undersized quarterback for a small market football team. My dad refused, which explains why I'm now a writer (You're welcome, Andrew Luck). After all, I was too young to remember the real Doug Flutie, the Heisman Trophy-winning Boston College quarterback who helped make the USFL somewhat relevant. Flutie may have still been a talented quarterback — especially for his age — but he had clearly lost a step by the time I started watching football.
Thirteen years later I was on the phone with my dad, talking about one of the most lopsided fights he had ever seen. I spent the entire conversation trying to convince him that the small, pudgy guy he just watched get destroyed by a no-name oddity was at one point the most dangerous fighter on the planet. As you may have guessed, I'm specifically referring to Fedor Emelianenko vs. Antonio Silva. But really, Fedor's entire Strikeforce run can be summed up the exact same way. Perhaps Fedor was too old, perhaps the heavyweight division had simply caught up to him, or perhaps it was a combination of the two. But one thing is clear: By the time that Fedor made his way to Strikeforce, he was no longer the untouchable fighter that he had once been.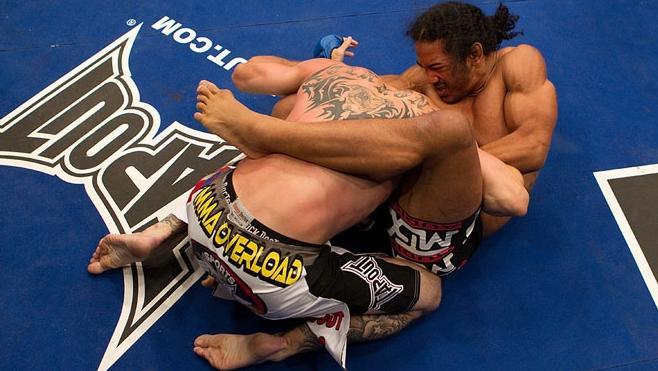 Even in his lone victory, a second-round knockout against Brett Rogers, he was arguably losing the fight before connecting with the fight ending right hand. And Brett Rogers is no Apollo Creed; he's barely a pimple on the ass of Vodka Drunkenski. He's a gatekeeper in every sense of the word — just legitimate enough for EliteXC to have kept him away from a "prime" Kimbo Slice, but not legitimate enough to pose any threat of beating a true contender. We had all the warning signs that Fedor was going to be a bust signing after this fight, yet we chose to ignore them because hey, he won, right?
If we chose to ignore the warning signs in his victory, then we refused to acknowledge that they even existed when he lost. His loss to Werdum? Don't go saying Werdum managed to bait Fedor and submit him, like we knew he would if he had any chance of winning. Fedor just got caught, and that happens to everyone. His aforementioned loss to Antonio Silva? Whatever, we all know that Bigfoot Silva is too big and strong to lose. It's funny how quickly the Fedor fans would resort to that justification, while simultaneously praising Fedor for his victories over foes even larger than Silva, such as Hong Man Choi, Semmy Schilt, Zuluzinho…you get the idea. By the time Fedor had woken up from the beating that the much smaller Dan Henderson gave him, the myth that Fedor would ever be untouchable again had been debunked. Sure, some of us were still crying "EARLY STOPPAGE!"; just like some children will insist that their dead goldfish moved before their parents flush it down the toilet.
Interestingly enough, Doug Flutie's NFL career ended with Flutie successfully dropkicking an extra point — the only successful dropkick in the NFL since the 1941 NFL championship game. It's not exactly winning the Super Bowl, but it's the best possible way for the guy to have gone out. Likewise, Fedor has won two straight fights since being released, and will more than likely make it three against Pedro Rizzo on June 21. Is it the most glamorous way for him to finish out his career? Don't be stupid. But it's far less painful than watching him lose, which is all I ask for after his time spent in Strikeforce.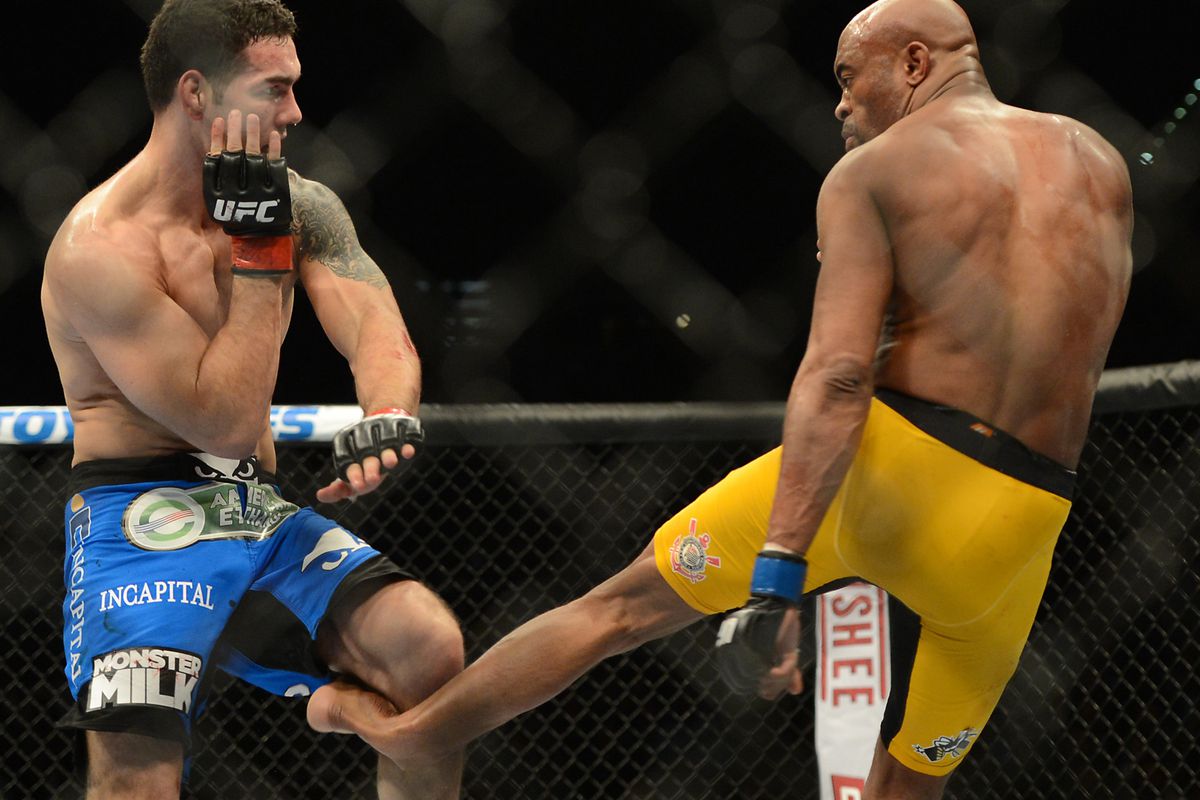 I've been to many live MMA events over the years, but few are as memorable as those early UFC's in Louisiana. Most of the people in attendance were there to scream racial epithets at Tsuyoshi Kohsaka — nice place to hang your hat, Seth — so the few 'real' fans present had no trouble approaching fighters to shoot the shit after the fights. It was a golden time, but that doesn't mean there weren't any uncomfortable moments.
A former UFC champion several times over, Dan Severn was tapped for main event action at UFC 27: Ultimate Bad Boyz. Though he'd been incredibly active during his hiatus from the UFC, the sport had evolved exponentially in the three-plus years since "The Beast" had last stepped foot in the Octagon, and young guns like opponent Pedro Ripzzo seemed cut from a different cloth. What followed the opening bell was my lowest moment as an MMA fan.
At forty-two years of age, Severn was clearly near the end of his run as a pro fighter, and he looked dangerously slow and timid against "The Rock." Straight away Severn shot in, but his once-formidable takedown was thwarted when Rizzo simply stepped aside and gave him a little toss, sending the elder statesman careening to the floor like a chubby chick in an grape-stomping contest. From that moment on there was a sickening feeling in the air that an old man was going to get very hurt. It wasn't how slowly Severn reacted to a grazing head kick that was concerning, it was that he never reacted. Moments later, a hard inside leg kick chopped Severn down on all fours, but he was quickly back to his feet. Another kick to the same spot caused immediate injury to Dan's well-braced knee, forcing him to verbally submit while clutching his knee in agony, Peter Griffin-style.
As this was the final bout, everyone sat in their chairs for a moment, thankful that the bout ended so quickly yet disgusted that it had ever been booked in the first place. It was a depressing capper to the evening, and it made me question if there was anything sporting whatsoever about what I'd just watched. I felt ashamed to have been connected to the sport at that moment…then a few weeks later I found out that Randy Couture was coming back to the UFC, and I forgot all about poor Dan's knee.
At least the UFC learned a valuable lesson: never sacrifice an aging champion to prove how far the sport has evolved.
I would love to give you a history lesson on how the Thai people stole their entire combat style from the Cambodian people but I'll save that for another day. Today I'll be honest and forthcoming with you. I've been a long time fan of MMA and perhaps really fell deeply in love with the sport because of a group of guys on a reality show called Tapout. However on March 11th, 2009, the entire MMA world was forced to swallow a tough pill in that Charles "Mask" Lewis had died in a horrific automobile accident involving himself, his female passenger, and a drunk driver.
Tapout was founded by Charles and Dan "Punkass" Caldwell, and it stood for something at one time. The industry-leading clothing brand went from $30,000 in sales in 1999 to around $200 million ten years later — sponsoring notable fighters such as Donald "Cowboy" Cerrone, Dan Lauzon, Pat Curran and many, many others along the way — and after Mask's tragic death, I knew it was only a matter of time until his creation was sold. Lo and behold, on September 7th, 2010, barely a year after the death of one of their own, Tapout sold out to Authentic Brands Group in a major apparel merger. (Authentic Apparel would also purchase Silver Star Casting and MMA Apparel.) It might have been the obvious business move, the smart move, just not the one I think Mask would have made.
On August 11th, 2011, Tapout's new parent company went after Tapout Cancer LLC, a non profit company which raises awareness and money through Brazilian Jujitsu. Surely now Tapout could go no lower, the brand that had once stood for greatness and the little guy trying to make a difference. Now they were attacking charity organizations for trademark infringement? Seriously? I don't really know how you make steps to clean that much mud of your name but it seems they're giving it their all because as reported earlier this month by MMAPayout, Tapout will donate a percentage of limited edition t-shirts to the Daniel James Miller Foundation.
That, in my opinion,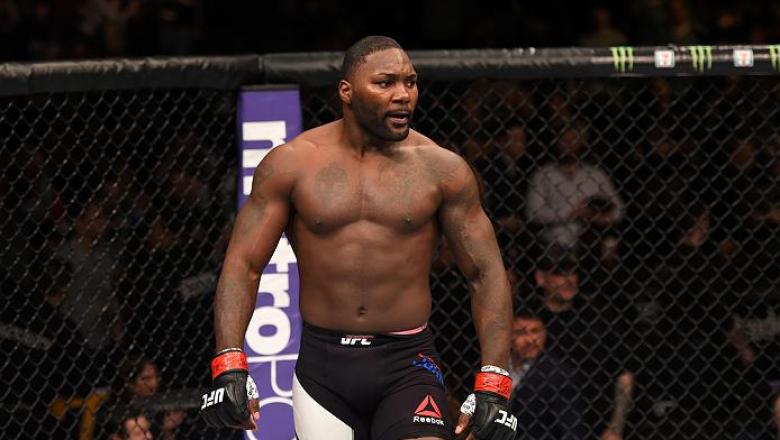 is great news but only a small step in a very long road they have to recovery in the eyes of MMA fans everywhere.
Gentlemen, I have seen some dark things in my brief time on this earth. Tribal warfare, nuclear fallout victims, genetically mutated animal corpses, Cannibal Holocaust, Antichrist (twice), A Serbian Film, and a cult-led massacre that I may or may not have been a participant in. Fun fact: I was once at a 4th of July party where a man, tripping his balls off on mescaline mind you, proceeded to drag a deer carcass off the road and feast on it like it was the breakfast buffet at the local Holiday Inn. But none of those things come within eyeshot of the emotional trauma I suffered when I watched Mirko Cro Cop get Mirko Cro Copped by Gabriel Gonzaga at UFC 70: Nations Collide.
Let me set the scene for you: I was at a friend's house, watching the fight on the big screen TV that I both worshiped and secretly hated my friend's family for having the means to afford. Joining us was my friend's father — an ex-member of the East Coast Mafia, my friend's mom — a smoking-hot dog trainer, and their jackass brother-in-law — a MMA novice who was as dopey as he was clueless. The fight began alright enough, with Filipovic landing a solid body kick before getting taken down and spending a couple of minutes on his back. Not great, but I knew that Cro Cop was simply biding his time, waiting for the opportune moment to strike.
And then it happened.
As if God was playing some sick joke on me and me alone, Cro Cop was served fifty pounds (the approximate weight of one of "Napao's legs" according to Wii Fit) of irony that I'm pretty sure gave me AIDS right then and there. The only reason I can't confirm this is because I refuse to get tested, wear condoms, or give the prostitutes I have on call my actual name. Ignorance is truly bliss. Anyway, I have never witnessed a fight, aside from Silva/Leites perhaps, that left me with such a heavy sense of hopelessness and dread.
Cro Cop was and always will be a hero of mine; how can anyone state otherwise? His Wikipedia page reads like a Duke Nukem game synopsis and the highlights of Abraham Lincoln's biography (specifically the passages involving vampire hunting) were mixed in a blender, set on fire, then thrown out of an airplane into a tornado that had just passed through an axe factory. And to see a legend like Mirko fall in such devastating, not to mention (because I already mentioned it) ironic fashion, just made me want to give up on this whole "normal" existence and fall back on the tragic, less refined ways of my past. But I can't go back to that…not this time. I can't…go…back…
On the morning of July 22nd, 2009, I awoke to feelings of desperation, anger, depression, and at least 100 other emotions that words would never do justice to. I was very much looking forward to watching a great night of live fights sponsored by Affliction. Instead, like some kind of evil Santa, Josh Barnett rose from whatever circle of hell I'm sure he commands to snatch away the present we were receiving in Affliction: Trilogy.
If there are two things in this world that I love, they are my Thursday night Russian roulette tournaments with the local homeless, and live fights. Josh Barnett fucked up at least one of those for me. Naysayers be dammed, because in case you forgot, Affliction carried names like Fedor Emelianenko, Tim Sylvia, Andrei Arlovski, Ben Rothwell, Josh Barnett, Pedro Rizzo, Renato Sobral, Matt Lindland, Mark Hominick, Antonio Rogerio Nogueira, Vitor Belfort, (at least five of those names are still relevant) and many others. Hell, they even got Megadeth to perform, for some reason.
I still personally hold the belief that if Affliction: Trilogy had come to fruition; we would be staring down the barrel of two established promotions, competing with each other. That of course would mean a competing talent pool, exciting fights damn near every weekend, and none of the "my way or the highway" mind set the UFC has undertaken (ask Miguel Torres). That being said, I personally hold Josh Barnett responsible for all things bad in my life (as if I have much going on besides MMA). Therefore Nation, the next time that anything remotely bad happens to you — be it stubbing your toe, not being able to pay the rent on time, or your tool shed/meth lab blowing up *sigh*…again — I not only encourage you, but personally insist that you blame it entirely on Josh Barnett.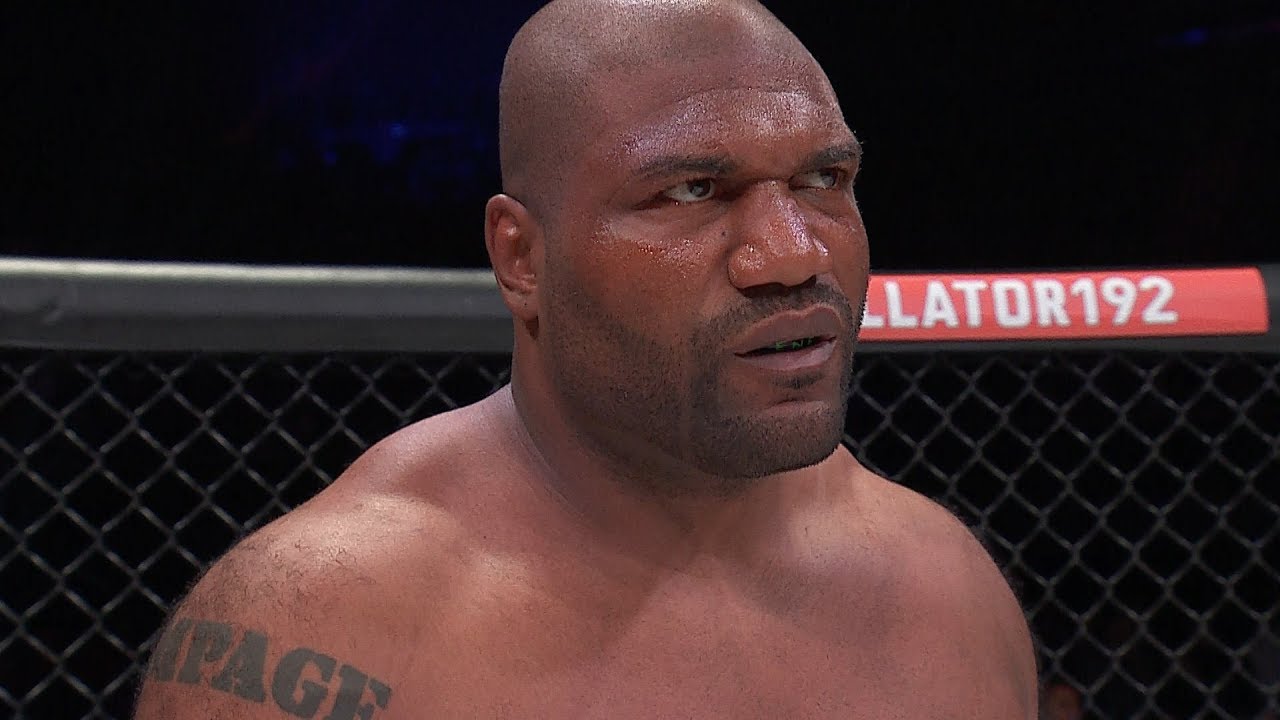 When you mix a bottle of Makers Mark, the internet and some free time alone there are only 2 possible destinations — Porno or YouTube — and after you finished with the former, you eventually arrive at the latter. Around 2004 or so, YouTube introduced many of us to the street fights of Kevin "Kimbo Slice" Ferguson and they were a sight to behold.
I actually felt like I was doing something illegal by even watching them because of the sheer brutality and the fact that the fights were taking place in a random backyard or parking lot. Being an MMA fan since the early days, I knew that he would only have a "puncher's chance" if he ever found his way to the cage but that didn't change the fact that he was intimidating. Kimbo was a scary dude and seemingly shared the same identity as Jules Winnfield's wallet.
Fast forward several years and the sport of MMA was thriving while spawning stars like Chuck Liddell, Georges St. Pierre, and Anderson Silva. It was inevitable that MMA was going to be broadcast live on network TV. The growth of the sport combined with the athleticism and charisma of the competitors had escalated MMA to damn-near mainstream status. It was a natural progression and I knew it was coming. I just didn't think that the very first prime-time network television MMA main event that everybody across America was going to be exposed to would feature none other than Kevin "Kimbo Slice" Ferguson. Back on May 31, 2008, every Tom, Dick & Harry who had little to no interest in "our" sport tuned into EliteXC and CBS touting Kimbo as the MMA flag-bearer. I wanted to puke.
Ratings peaked at 6.51 million viewers during the Kimbo VS James Thompson fight and to say the bout was a technical masterpiece would be like saying Attack of the Killer Tomatoes was Oscar worthy.
The fight was a brawl but to classify it as MMA and force-feed it to the masses of ill informed mouth-breathers was negligent in my opinion. The CBS suits got their ratings and didn't care that the evolution of the sport was being hindered.
Thank God for The Silverback Seth Petruzelli.
Though Kimbo and CBS did bring new eyeballs to the sport, ultimately the experiment failed for all involved. Kimbo was exposed as being what most of "us" already knew. CBS lost the demographic they craved when EliteXC went belly-up shortly thereafter and the public perception of MMA was damaged a little bit more.
[kkstarratings]