What Was the Greatest One-Round Fight of All Time?
The greatest fight that only went one round, you say? Psh, please. 
The 2004 PRIDE heavyweight grand prix semi-final between PRIDE heavyweight champion Fedor Emelianenko and 1992 Olympic silver medalist in judo Naoya Ogawa ended in less than a minute with Fedor winning via armbar. But the result was a combination of Fedor's thwarted Olympic aspirations, PRIDE's deception and skilled management.
When Fedor was on Russia's national judo team, resentment collected as he was unable to surmount the politics that kept him from representing Russia in the world championships or the Olympics:
"In all of the Russian championships I was always third-third-third. In our sport, the first place always goes to world competitions, the second to Europe's. I was always third. I was tired and was asking them if they had a conscience at all. I'm fighting, and the entire room's yelling at the judge, 'What are you watching?' I couldn't get through, so I left."
Pro wrestler Ogawa had many asterisks next to his 7-0 win column in MMA. Gary Goodrige said he was offered a bribe of $20,000 to lose to Ogawa (Goodridge, who lost via keylock, claims he turned the bribe down). Going into the first round of the 2004 Grand Prix against Ogawa, kickboxer Stefan Leko could barely walk, but when his compensation was more than doubled from $150,000, Leko agreed to be shot full of painkillers and the fight went on. Leko quickly lost to Ogawa via arm-triangle choke.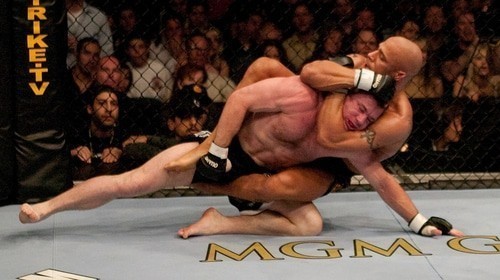 Said Fedor and Leko's then-manager Miro Mijatovic, "Fedor knew humiliating Ogawa was another step in building his legend amongst the general Japanese public. We insiders knew Ogawa was crap, and I was pissed at our role in allowing that fraud to get so far."
The PRIDE brass wanted Fedor to take on Sergei Kharitonov in the semi-finals, but Fedor's team knew that smashing Ogawa was a better proposition.
That Ogawa was an elite judoka who had enjoyed the opportunities to shine on the world stage denied to Fedor provided the fuel. The lack of a handshake before the contest was dropped like a lit match as Fedor coldly dismantled Ogawa in the first round en route to winning the 2004 PRIDE heavyweight grand prix.
So what if it's a little under 10 minutes long – technically, the first battle in the three-part war waged by Wanderlei Silva and Quinton Jackson took place within a single round, so it qualifies for this list. Silva and Jackson, two of the greatest light heavyweights (or in PRIDE terms, middleweights) in the history of the sport, met in the culmination of the 2003 Pride Grand Prix for Silva's middleweight title. At the time, the argument could be made that they were the best fighters on the planet. Jackson had just defeated Chuck Liddell earlier in the night, and Silva had dominated a game, Hidehiko Yoshida, as well. Silva was in the midst of his prime and Jackson was just entering his own.
If that context wasn't enough, there was no love lost between these two heading into the finals. Following a knockout win over Kevin Randleman at Pride 25, Jackson had called out Silva for a title fight. Silva responded in kind by rushing into the ring, yelling "MY BELT" at Jackson and shoving him across the ring. Before it even came to blows, they engaged in one of the most intense staredowns in MMA history – Jackson unblinking and snarling as Silva hopped back and forth, their eyes never dropping for an instant. When the fight began, Jackson rushed across the ring to slam Silva as was his won't in those days. Silva countered by pulling guard and attempting a guillotine. While unsuccessful, he was able to avert the fate of Ricardo Arona and the fight continued from his guard. Jackson was active, but Silva was able to avoid any significant damage by utilizing an effective defensive guard.
Jackson was able to pass Silva's guard after the latter attempted an armbar, and proceeded to land knees to Silva's face from side control. Silva regained half-guard, but Jackson continued to work with body shots. His success was fleeting; Silva quickly regained guard and proceeded to stall where he was able. A somewhat questionable stand up followed, as Wanderlei received a yellow card for inactivity but also benefited from returning to his feet. Taking advantage of this opportunity, Silva managed to stun Jackson with a knee from the clinch. What followed was one of the most brutal and memorable displays of sanctioned violence ever. Silva chased down the backpedaling Jackson and managed to secure a Muay Thai plum. He proceeded to deliver 17 unanswered knee strikes to Jackson's head, with the occasional soccer kick thrown in for good measure. In a surreal moment, Jackson and Silva seemed to lock eyes one final time and smile at each other before Silva delivered the final blow and Jackson crumpled to the canvas.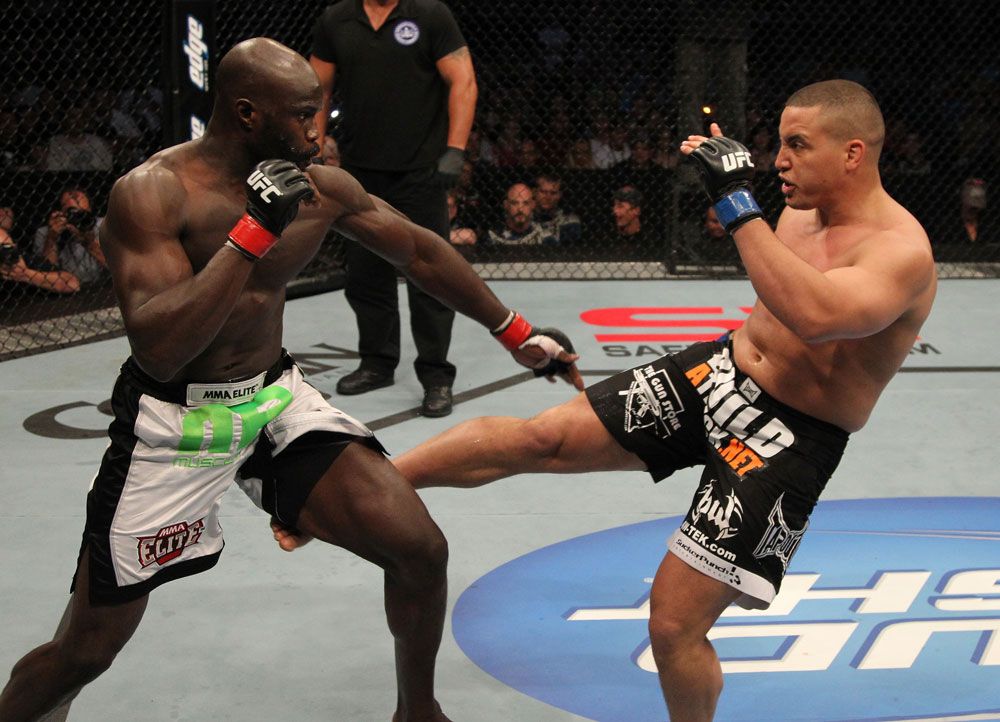 The fight itself is one of the most exciting and vicious you will ever see in MMA. It featured two of the best fighters at their peaks fighting for a title after each had already dispatched legitimate fighters earlier in the evening. Not only was it a seminal moment in the history of the sport, it contained seminal moments within it. Few other fights can claim to possess these accolades. None can do so having only lasted around. That's why this is the greatest one-round fight that ever was, and perhaps the best that will ever be.
On one hand, this is an extremely tough spot to be in: Both Matt Hughes vs. Frank Trigg II and Cheick Kongo vs. Pat Barry are still on the board, yet I can only pick one of these fights as my choice. Yet, on the other hand, this really isn't a difficult decision. Cheick Kongo vs. Pat Barry gets the nod here.
Everything that can possibly be written about this classic already has been, so I'm not going to beat a dead horse and recap it blow-by-blow. Besides, if you've ever so much as heard about this fight, you know exactly what happened. Kongo vs. Barry had everything that a great fight should: evenly matched opponents, logical strategies, and a dramatic build-up to the climactic finish. And that was before Cheick Kongo came back from seemingly being knocked out to shut out Pat Barry's lights.
You could take two of the best fight choreographers in Hollywood, two of the most talented professional wrestlers in the WWE, and give them an entire year to build up a fight to such an exciting finish in only two minutes and thirty-nine seconds, and their creation wouldn't hold a candle to this. "Anything can happen in a cage fight," MMA promoters will tell you. Sometimes, it's actually true.
Did we omit your favorite one-round fight? Let us know your pick in the comments section.
[kkstarratings]