What Is the Most Underrated Fight of All Time?
Until their recent rematch truly helped bring to light how incredible their first encounter was, I would argue that Eddie Alvarez vs. Michael Chandler at Bellator 58 was the most criminally underrated fight in MMA History. It wasn't difficult to see why; the fight just happened to transpire on the same night that Dan Henderson defeated Mauricio Rua in a "Because PRIDE" classic at UFC 139, and being that Bellator plays Wes Mantooth to the UFC's Ron Burgundy, Alvarez vs. Chandler was sadly overshadowed by its manlier, more mustachioed counterpart.
Contrary to popular opinion, however, I would additionally argue that Alvarez vs. Chandler surpasses Hendo vs. Rua in terms of pure excitement, and I say that as a guy who dug PRIDE more than Seth digs TNA Impact. For one, there was more than pride on the line for Chandler and Alvarez, there was a lightweight title. Sure, it was a Bellator lightweight title, but that's worth like three MFC titles, dudes. And while Hendo vs. Rua was a goddamn barnburner in its own right, it never quite reached the fever pitch of the first round of Chandler vs. Alvarez.
How good was Chandler vs. Alvarez 1? Good enough to pull over a million viewers for its (equally enthralling) rematch. A rematch which, by the way, went down on a last-minute clusterfuck of a card that was extremely underwhelming until Alvarez and Chandler saved it and possibly the promotion.
If we're talking about underrated fights, let's give some attention to MMA's earlier days. There were a lot of great fights then — and I'm not just talking about the "classics" that are constantly cited as examples of MMA's best fights. I'm talking about the underrated fights that offered an inkling into MMA's future. One such fight is Keith Hackney vs. Royce Gracie.
When watching this fight in 2013, it seems kind of bland, but you have to look at the fight in its historical context. The fight took place at UFC 4 in 1994. Back then, Royce Gracie was a monster. In the young, borderline-illegal "sport" of MMA, Gracie was the closest thing there was to a Mike Tyson. He was untouchable, and he dispatched his opponents without effort — at least until Gracie met Kimo Leopoldo.
At UFC 3, Leopoldo exhausted Gracie to the point where the Brazilian couldn't continue on in the tournament even though he had beaten Leopoldo with an armbar. Yes, Kimo was the first man to make Gracie look mortal…but Kimo was a roided-up monster. Keith Hackney couldn't make that claim, and that's why Keith Hackney vs. Royce Gracie was so awesome.
Who doesn't like a good ol' fashioned fist fight where both competitors match up evenly?
Answer: Nobody; well at least nobody that visits Cagepotato.
Yet somehow, Nate Quarry vs Tim Credeur is rarely even brought up as one of the best fights in the history of our sport.
Both dudes were different stylistically yet they each shared a TUF background. Fans knew who they were because both fighters made an impression on the show; remember, this fight took place back when "fans" actually watched TUF. There was built-in name recognition to this curtain jerker on the main card of Fight Night 19 for both guys whether it was warranted or not. Oddly enough, this fight card served as the lead-in for TUF: HEAVYWEIGHTS starring Kimbo Slice #ratings.
What happened in the course of 15 minutes was nothing short of awesome. Round 1 saw the underdog, Credeur, drop his opponent and quickly follow him to the mat for a quick transition to an attempted RNC (not to be confused with the delicious BRC from El Pollo Loco; up yours East Coasters). Quarry was able to get back to his feet and then both men just started swinging. It was great and Credeur took the first frame.
Round 2 started with both guys throwing bombs until Quarry connected flush and sent Crazy Tim to the mat. Nate landed some solid GNP strikes from inside full guard. Although Credeur was taking punishment, he was constantly shifting his hips looking for a submission and returned fire with shots of his own from the bottom. Even though he was active from his back, Quarry knotted the fight at one round apiece.
In the final stanza it was clear that both men were tired and beat up but that is why this fight was my choice. Both Quarry and Credeur showed Arturo Gatti-esque balls and just kept swinging with Crazy Tim getting tagged several times. Though Credeur was eating punches and getting knocked down, he kept getting up. On wobbly legs, he continued to throw punches even though Quarry was getting the better of him. Quarry, for his efforts, had a mouse under his eye that looked like a Halloween-sized Snickers bar and his counter-punching was spectacular. The horn sounded and the two professionals embraced after giving the fans one hell of a slugfest.
Had this fight taken place only one year earlier, there is no doubt in my mind that it would have been Fight of the Year, and rightfully remembered as one of the greatest MMA slobber-knockers of all time. But instead, Diego Sanchez vs. Clay Guida took home 2009′s FotY, and this bout is only a footnote in our sport's history — a great fight from an otherwise decent card that earned both competitors an extra $30k for their efforts (yeah, the Fight of the Night award for this event was only $30k. Feel old yet?).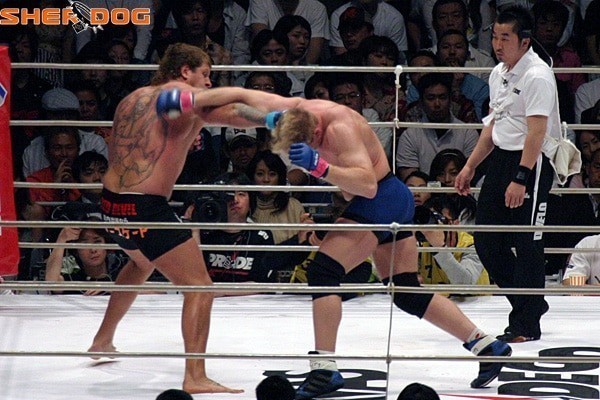 Alexander Emelianenko vs. Josh Barnett 
Josh Barnett has always been one of my favorite fighters. 
Barnett's PRIDE career was relatively brief and not particularly successful — he went 5-4 in the Japanese promotion from 2004-2006, including three separate losses to Mirko Cro Cop — but his run in the 2006 PRIDE Open Weight Grand Prix was a career highlight, and his opening round match against Aleksander Emelianenko is, in my opinion, the most under-appreciated heavyweight bout in PRIDE history.
. Barnett's best strategy would have been to take the fight to the mat at all costs and let his grappling advantage take over. But in a misguided (yet totally awesome) display of bravery, Barnett spends the majority of the ten-minute first round trading bombs with Emelianenko. What transpires is everything you'd want out of a heavyweight MMA fight — two behemoths standing toe to toe and testing each other's ability to remain conscious.
The fact that Barnett survives a ten-minute boxing match against Aleks was a moral victory in itself. And after proving his point, Barnett got down to business in round two, tripping his now-gassed opponent to the canvas, passing to side control, softening Emelianenko up with some knees, and wrenching out a tap via Americana. After the fight, Josh declared that "pro wrestling is the strongest in the world" (!) and vowed that Fedor was already dead (!!!). 
Of course, opening-round fights of any tournament tend to be easily forgotten, and the epic Final Four at PRIDE Final Conflict Absolute tends to overshadow everybody's memory of the 2006 OWGP. But viewed on an individual basis, I think Barnett vs. Emelianenko was the most entertaining and competitive of the 15 fights that took place in that tournament — and it made me a Josh Barnett fan ever since.
Cerrone is also notorious for engaging in entertaining fights. Unlike Henderson, he tend to be more violent and one-sided. Such was the case in his second fight against Henderson at WEC 48; Henderson clinched him against the fence, kneed him in the head until Cerrone developed a nasty hematoma and finished the fight with a guillotine in the first round. However, Bendo and Cerrone's first match was one of the greatest fights in MMA history.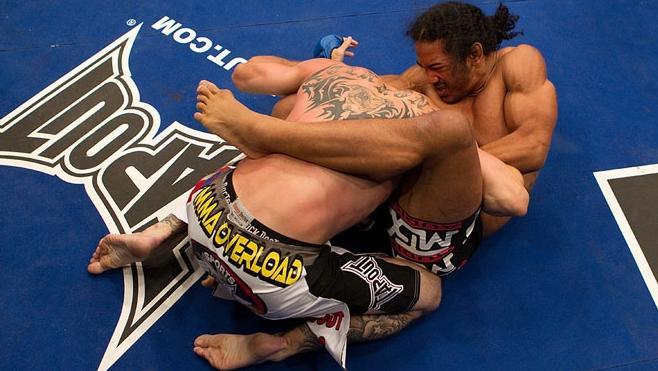 With then-WEC lightweight champion Jamie Varner injured, Henderson and Cerrone competed for the interim title at WEC 43. The first two rounds took place on the ground following Henderson takedowns, but Cerrone was extremely active off his back throughout the fight and almost secured a fight-ending guillotine in round one. The third round was less eventful, but in the fourth Henderson — who had been active with takedowns and top control — began to fade. Cerrone began to capitalize, first in the standup in round four and then on the ground in round five. In that final round, Cerrone attempted no less than six submissions, all which had the potential to end a fight. Henderson, however, managed to survive each one of them, earning him a reputation for being nigh-unsubmittable that would stick with him until his last fight. Many observers, including myself, believed Cerrone had taken a close decision on the strength of his submission activity. Naturally, Henderson won the controversial decision, through Christ who strengthens him — or at least influences judges to weigh top control too favorably.
The match won Fight of the Year from Sherdog, MMA Fighting and Sports Illustrated. Given the popularity of both fighters currently, it would easily be in the consideration for the best fight in MMA history if it took place today. Yet it's still a relatively obscure fight because no one knew who the WEC guys were in 2009. That's a shame because this fight not only epitomized every single aspect of mixed martial arts you could ask for (save for a definitive finish), but it also began to establish the legitimacy of the WEC and its fighters. This fight, along with the ascendancy of guys like Urijah Faber, Miguel Torres, and Jose Aldo, helped pave the way for the inclusion of lighter-weight fighters in the UFC. But even deprived of its context, this is still a truly exceptional fight.
I'm under no delusions that Leonard Garcia is a UFC-caliber fighter, but I'll be damned if I allow this discussion to conclude without anybody bringing up "Bad Boy." His aggressive fighting style almost always translates into an entertaining, memorable brawl. But I don't need to explain that to you; hell, you probably look forward to watching Leonard Garcia fight even more than Jared looks forward to updating his To-Do list.
Back in September, Leonard Garcia returned to action against Nick Gonzalez. It was the back-and-forth brawl that you'd expect from a Garcia fight, with Bad Boy eventually winning the fight by rear-naked choke. If this fight took place in the UFC, it would have been Fight of the Night, but since it took place under the Legacy FC banner, most of you probably didn't even know that the fight took place until just now. 
I think it's a bit of a stretch to call this a Fight of the Year candidate (like some people are), but it definitely deserves to be mentioned during any discussion revolving around great fights from 2013.
[kkstarratings]