FanDuel Sportsbook Review

FanDuel has made its name in the fantasy sports industry. However, this operator has expanded to the sports betting market as well and it is currently operating in New Jersey, Pennsylvania and a few other states.
We know that they are one of the best when it comes to fantasy sports but today we will take a closer look at FanDuel Sportsbook and what it has to offer.
Numerous Sports and Markets to Bet On
Even though FanDuel Sportsbook is only a year old, this operator can already offer an extensive assortment of sports and markets you can bet on. Although there are sports betting websites with more sports to offer, FanDuel sticks to major sports and leagues without offering the obscure ones.
The list of sports they provide includes baseball, football, basketball, hockey, tennis, golf, motorsports, boxing, MMA, soccer, rugby and college sports.
When it comes to available markets for betting, FanDuel doesn't disappoint here either. However, they do offer more betting options for major USA leagues, especially NFL, while they don't have as many options for lesser leagues and less popular sports.
The markets found at FanDuel include moneyline bets, spreads, total score, winning margin, total points, double result, winners and spreads for halves and quarters, and many others.
Odds Can Be Better
While odds at FanDuel are not really bad, they are not up to the standard compared to some of their major competitors. First of all, they often react late to market changes and don't update their odds fast enough. However, this can also be a good thing if you know how to work it to your advantage.
The bigger problem comes from the bit more expensive odds compared to the competition, although the difference is not that big and serious.
Solid Welcome Bonus


FanDuel offers a few promotions for their new and existing players, the main being the welcome bonus. You can find a full list of promotions here.
The welcome bonus offered at the website is the $500 Risk Free Bet available after you make your first deposit and then the first bet. This means that you will get your money back if your first bet turns out to be a losing one, up to the maximum amount of $500. Keep in mind that this promotion is currently only available to New Jersey players.
Appealing Additional Features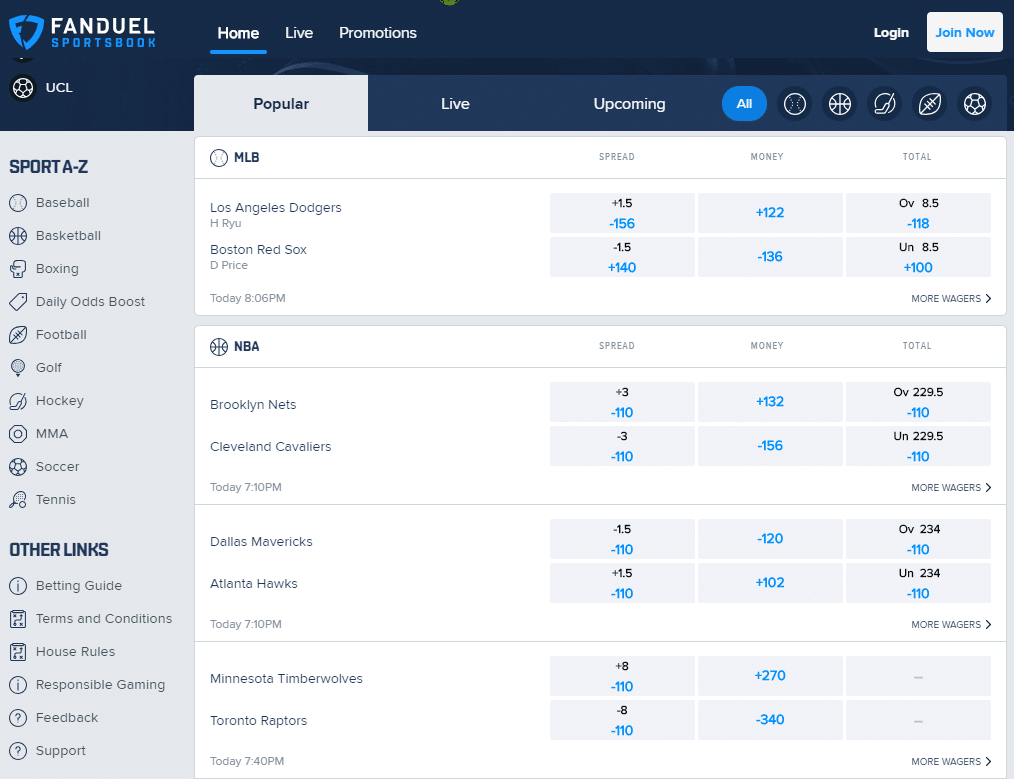 Before we discuss some of the interesting features you can find at FanDuel, we should say a few words about their website design because it deserves to be mentioned. Their user interface is truly great. The layout of the homepage is very intuitive and you will have no problem moving from page to page even when you come here for the first time.
One feature that stands out among the rest is the cash-out feature that allows punters to close their bets before the end of the match, at reduced odds. This is a great feature because it allows you to limit your losses if you feel that your bet is slipping away, or to lock down a win when the game is going well.
Of course, talking about FanDuel and not mentioning fantasy sports would not be very prudent. Fantasy sports lovers can enjoy this feature as well, although they will have to visit a completely different website for it. With that in mind, it is a bit of a disappointment that you can't find a direct link for FanDuel Fantasy from the FanDuel Sportsbook.
Some Room for Improvement in the Live Betting Section
Although FanDuel offers solid live betting options, there is a bit of room for improvement here. But let's start with the positives – you can find a solid number of sports and leagues on which you can bet live.
There is also a good selection of markets available, depending on the sport. For example, you can bet on football games live with such betting options like match winner or short-term wagers like the result of the next drive.
On the other hand, FanDuel lacks a live streaming option, which is a bit disappointing, especially in today's sports betting climate where this is becoming a standard feature. Another area here that could be better is the number of statistics offered for live events. However, the live scores and events are well presented in this section.
Fully Functional Mobile App
You can place your bets at FanDuel on the go if you download a dedicated app that is available for both Android and iOS users. You can download the iOS app on the App Store, while you need to go to the FanDuel Sportsbook to download the Android app directly from the website since it isn't available in the Google Play store.
The app offers the same functions that are available on the website. That means that you can use your mobile device to check out the betting markets, place your bets and manage your account. In addition to this, you can find all the same types of bets, features and promotions as found on the website.
FanDuel Sportsbook app offers a simple, intuitive design that allows users to navigate thought the app with ease. Of course, a special section is dedicated to in-play betting, allowing you to place bets on as many live events as you would on the website.
Conclusion
FanDuel is a brand name in the fantasy sports industry but they are slowly building an equally great reputation in the sports betting industry. Their sportsbook is already available in multiple states across the USA but they also plan to expand their operation further in the near future.
Some of the great things you can find on this website include a well-organized website layout that allows for easy navigation, a solid number of sports and markets you can bet on, a clean and intuitive mobile app and a good welcome bonus for new members.
However, despite the positives, FanDuel can still improve and grow. One area where they need to do better is live betting, where they could benefit from a few more betting options and live streaming.
[kkstarratings]