The Unsupportable Opinion: Chris Weidman Beating Anderson Silva Was the Best Thing That Could've Happened to the UFC
You can mourn for Anderson Silva's pristine UFC record and title run if you want — but you shouldn't. The Spider losing to Chris Weidman was the best possible outcome at UFC 162. Even Anderson Silva himself said that Weidman winning was the ideal situation.
Hear me out before you add your voice into the chorus of angry Silva fans (and spambots) in the comments.
A relatively new UFC fighter knocking off an established "star" was an amazing development for the UFC and for MMA as a whole.
First, the inevitable rematch between now-(interim?)champ Chris Weidman and former champ Anderson Silva is going to be a massive draw. Does the UFC have a fight that can fill Cowboys Stadium? It's impossible to tell now since the fight only happened two days ago. But what's known for sure, is that Silva-Weidman II will be big. Possibly UFC 100 big.
But there's more to a rematch than just a one-off payday. Weidman being on a well-drawing PPV 
with Silva and then being on a potentially enormous PPV with Silva for a rematch might make the Long Island native a star at a time when the UFC is in desperate need of new ones. This isn't a guarantee though, just a possibility. Other fighters have been on high-performing events and haven't gone on to become superstars, just as other fighters have beaten established draws only to not become draws of equal or greater size themselves.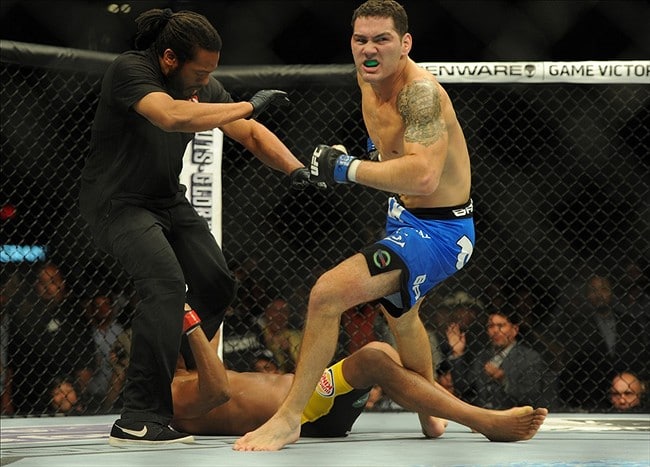 Second, Weidman's win restored life to the middleweight division. Before, the Zuffa hype machine would drum up interest in a new Guy to Beat Silva™ only for Silva to humiliate that person. This went on like clockwork (with Silva-Sonnen I being the only slight hiccup) until Weidman turned the tables. Things are different now. Will the division become a revolving door of equally-matched contenders who all hold the belt? Or will Weidman manage to fend off the top ten fighters and become dominant for years? We get to watch the answers to these questions unfold right before our eyes now. Middleweight became the most exciting division in the UFC after Silva hit the canvas.
Third, the aftermath to UFC 162 will help us determine what lies in the UFC's future. A star faded at UFC 162. Anderson Silva was brutally knocked out. Will Weidman, his replacement, be able to draw a crowd? What happens when all the established names of the old generation are replaced by the Chris Weidmans of the sport? Will the lamps go out all over the MMA world? Or will MMA have a new Renaissance? We don't know right now, but we can get a better idea when we see how Weidman performs on PPV and if he becomes a (inter)nationally recognized name.
Fourth, and most importantly, if Silva had won we might've had Roy Jones Jr. in the UFC. MMA owes Weidman a debt of gratitude for stopping this from happening.
Had the 38-year-old Silva held onto the belt for a little while longer, nothing would have come of it. Joe Rogan and Mike Goldberg would trot out tired statistics and legendary records but the sport wouldn't move. It'd be frozen in a previous era. Now, MMA is liberated. So don't be upset. Silva lost. Weidman won. And that's great.
[kkstarratings]