Caesars Sportsbook Review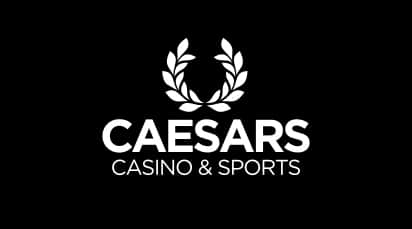 Caesars is one of the most famous casinos in the USA and you would probably struggle to find someone who hasn't heard of it.
However, Caesars also offers online betting experience with the Caesars Sportsbook and we will take a closer look at what this operator has to offer when it comes to sports betting.
A Wide Variety of Sports, Not so Many Markets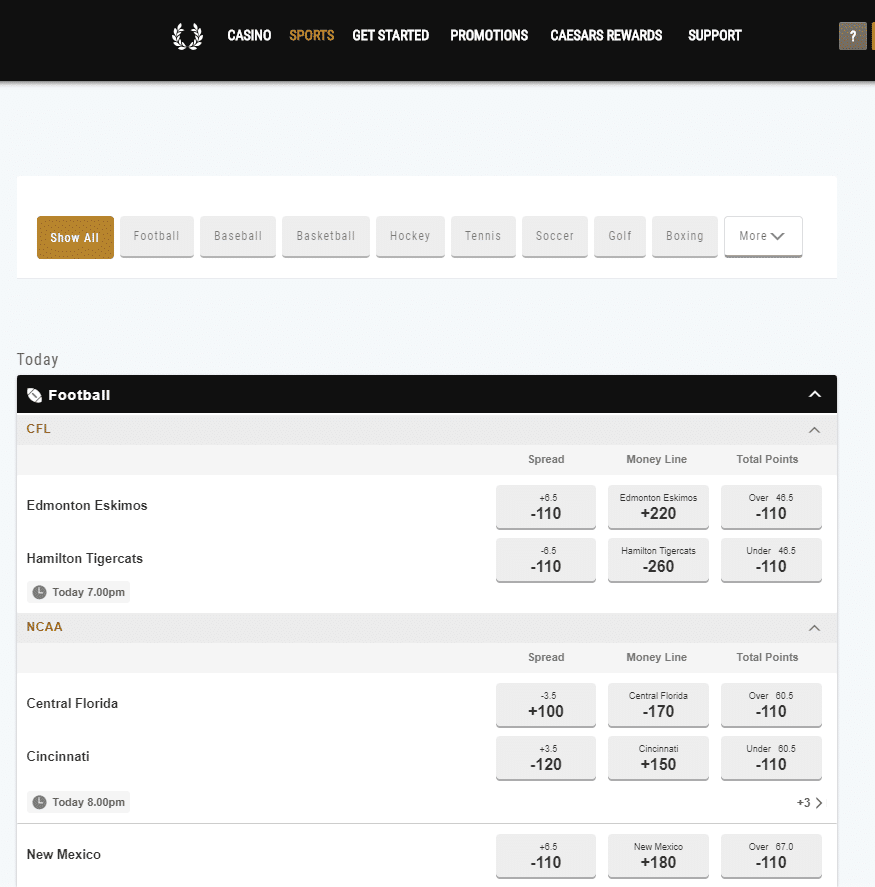 Caesars Sportsbook offers a lot in some areas, while it comes awfully short in others. For example, you can place a wager on many different sports, including football, baseball, basketball, hockey, soccer, tennis, golf, MMA, cricket, rugby, etc.
There are also a few virtual sports you can bet on but you have to visit the casino section of the website to find them under the tab "Other Games".
However, in contrast to this rich selection of sports, Caesars doesn't provide a nearly as good selection of betting markets. In fact, they trail the competition in this department by a lot. For example, this operator offers around 20 betting markets for NFL games, while some of its major competitors provide over 100 betting options for the same events.
Of course, there are still more than enough markets available for an average bettor, with standard betting options like point spreads, moneylines, totals, futures, parlays, etc.
Solid Odds & Limits
In the odds department, Caesars Sportsbook stands pretty close to the competition. They offer competitive odds on most events, although the lack of variety with the available betting options hurts them here as well.
Caesars doesn't have high limits on maximum daily winnings and betting amounts. However, maximum bets depend on the sport, event and bet type, which means that they can vary significantly. The minimum deposit currently stands at $10.
Generous Bonuses and Promotions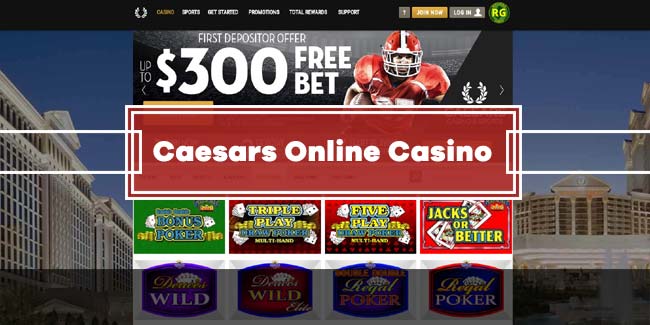 One department in which Caesars truly stands out compared to the competition are the active bonuses and promotions. You can find all the available promotions on this page but we will focus on welcome bonuses for new players.
When you register on the website, you will instantly receive a welcome bonus in the amount of $10, without having to place a deposit first. Of course, there are certain wagering requirements and other terms and conditions that you can find here but it is generally nice to receive a bonus without having to make a deposit.
There is also a First Time Depositor bonus available for new users. This bonus means that Caesars Sportsbook will match your first deposit in the minimum amount of $10 and the maximum amount of $300. You can find detailed terms and conditions on the website, along with full wagering requirements you need to satisfy before you can withdraw funds from your account.
Various Additional Features
Caesars Sportsbook has a pretty basic website design, fairly unimpressive in appearance. While it is generally easy to navigate, it can be a bit confusing at times, especially if you visit the casino section.
Another thing that is missing from the Caesars website is the cash-out feature. This is a feature that provides a bit of a safety net for punters and allows them to cash out early, before the event is over. It is pretty much a standard in the sports betting industry today, which is why it is surprising that it isn't included in the offer at Caesars Sportsbook.
On the other hand, Caesars does provide a great loyalty program for its users, which is a part of the Total Rewards program that includes not only Caesars, but other casinos and resorts across the world.
Caesars also has one pretty useful feature that allows you to build custom parlays. The website creates a betting slip whenever you choose a wager. This betting slip is found on the right side of the screen and shows your current wagers and potential winnings. If you add multiple wagers to the slip, it will automatically create a parlay option with calculated odds for your selections.
No Live Betting and Streaming Available
Perhaps the biggest shocker about Caesars comes from the fact that they don't offer any type of live betting on the website. There is an in-play section available, but you can only bet on half-times of soccer and football games, while other sports and markets are completely excluded from the offer.
This is a huge disappointment, particularly since live betting is quickly becoming the staple of online betting, along with online streaming that allows players to watch the events they wagered on.
Adequate Mobile App
Caesars Sportsbook has a solid app for both iOS and Android devices. You can download the iOS app directly from the App Store, or you can visit the Caesars website and let them take you to the store to download the app. The Android app has to be downloaded directly from the Caesars website since it is unavailable on the Google Store.
The apps have a similar design as the website, although it somehow seems more organized and cleaner on the mobile devices than it does on desktop. When it comes to functionality of the app, it provides all the same features that you can find on the website and it is rarely affected by bugs and other problems.
Keep in mind that Caesars has a mobile-responsive website, so you don't have to download the apps to enjoy their products on your mobile device. You can simply open the website in your browser and place a bet without any problems.
Conclusion
Caesars is a big-name brand in the USA gambling industry, which is why it is a bit surprising to see them not being among the best sports betting operators as well.
While there are many positives about the Caesars Sportsbook, there are also some staggering drawbacks, especially the lack of live betting and a scarce selection of betting markets available for most sports.
On the other hand, it is hard to find a bookie that offers such generous bonuses like Caesars does, although they do come with extensive and somewhat complicated wagering requirements.
[kkstarratings]